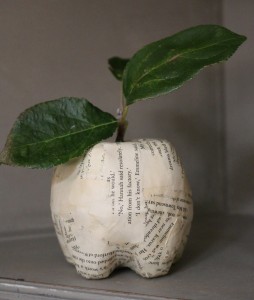 You will need:
Two plastic bottles (same size)
Craft knife or scissors
Newspaper sheets
Painter's tape
Wallpaper glue and sponge brush
Dry stem and leaves
Glue gun
Method:
1. Cut the curved bottom part loose from the rest of the plastic bottle using the craft knife or scissors. Do this for both bottles.
2. Place the two parts on top of each other and fasten it with the painter's tape.
3. Using the sponge brush, apply the glue to one side of your newly made apple. Paste small pieces of newspaper onto one side, and then repeat it for the other side. Leave it to dry on a wire rack for about half a day.
4. When it is completely dry, varnish it with a water-based varnish and allow it to dry.
5. Glue the dry stem and leaves to the apple with a glue gun.