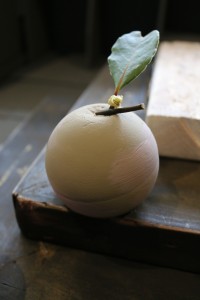 You will need:
Round plastic ball
Craft knife
Quick-set cement (bowl and spoon for mixing)
Paint and brush
Glue gun
Dry stem and leaf
Sandpaper
Method:
1. Cut a hole (big enough to pour in the cement) into the one side of the plastic ball with the craft knife.
2. Mix the cement according to the manufacturer's instructions. Pour it into the ball and allow to set.
3. When it is completely set, use sharp scissors or a craft knife and cut the plastic away from the cement.
4. Use some sandpaper and sand it smoothly, then wipe it clean with a damp cloth. Your apple is ready to be decorated. Paint it with the colour of your choice and glue the dry stem and leaf to it.