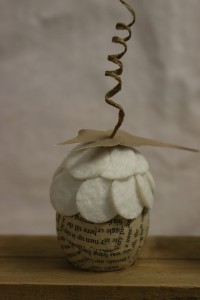 You will need:
Styrofoam egg
Garden twine
Brown paper for leaves
Wallpaper glue and sponge brush
Newspaper pieces
Felt stoppers (the ones you put underneath furniture legs to prevent them from scratching the floor)
Method:
1. Apply some glue to one side of the egg with the sponge brush. Paste the small pieces of newspaper onto the egg. Leave it to dry on a wire rack. When it is dry, repeat the process for the other side.
2. When the egg is complete covered with paper, and dry from all the glue, start to paste the felt stoppers to the top side of the egg to form the shell of the acorn. (These felt stoppers are sticky at the back, so no need to use more glue.)
3. Cut acorn leaf shapes from brown paper and make a curly stem from the garden twine.
4. Glue the leaves and the stem to the top of the acorn using the glue gun.