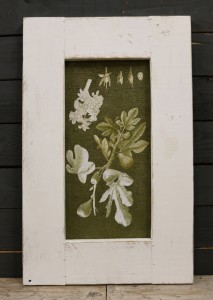 I am a lover of figs – who doesn't love figs? They are a rare treat in England. I made this picture as a fond memory of my childhood days in the Free State with three fig trees in the garden.
Recycled items 
Vintage pictures from old gift wrapping/cards
Hessian fabric
Old wooden frame
Also needed
Small scissors
Sealant (modge podge or PVA glue)
Green acrylic paint
Sponge brushes for sealant
Brush
Water-based varnish
Staple gun
Method
Place the hessian on a flat surface, place some old newspaper underneath it and start to paint it green.
While you wait for the hessian to dry, you can start to prepare your images. Paint a thin layer of sealant over the image side of your pictures and allow to dry. When it is dry, use the small scissors to cut around the edges of the images.
When the hessian is dry, position it over the back of the frame and use the staple gun to fasten it to the frame. Make sure it is a firm fit. The hessian will cover the complete inside of the frame.
Turn the newly-made frame around and decide how you want to arrange the images on the hessian. Pictures can be in any design and can overlap each other.
When you are satisfied with the layout of your design, paint some sealant onto the reverse side of the first image. Place it in position, press it down gently and rub over it with your fingers to get rid of any air bubbles and excess glue. Repeat this process with all the images.
When you are finished, apply a layer of varnish. This will protect your image.