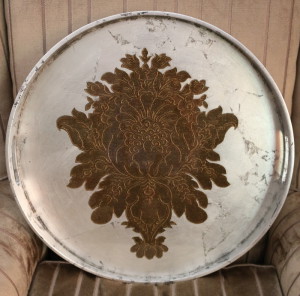 Recycled items
old wooden or metal tray
pictures from wrapping paper, magazines or photos (if necessary, re-size them on a photocopier)
Also needed
sealant/modge podge
sponge brushes
small sharp scissors
paintbrush
silver leaf
size (glue)
black acrylic paint
pratliglo
Method
Follow steps 2 – 6 of the gilding technique on the November blog post. Do not varnish the tray, seal its surface with modge podge with a sponge brush. The sealant must be dry before pasting any images to the tray.
Coat the picture that you would like to put on your tray with one layer of sealant. Leave it to dry then cut out the image with a pair of small, sharp scissors. Put some sealant on the reverse side of the image and press it down on the surface of the tray in the position you'd like. Gently rub over it with your fingertips from the centre to the edges to remove air bubbles and excess glue. Paint a coat of sealant over the surface of the image and leave to dry.
Cover the tray surface with a high-gloss polymer coating, e.g. Pratliglo from Kraftex  and follow the manufacturer's instructions. This can take a good five days to dry completely.