HOW TO MAKE IT:
To cover a hanging basket with chicken wire sounds like hard work but it is not, with some patience you will be rewarded.
1. Lay the chicken wire flat on your working surface and place a hanging basket on its base in the centre of the wire.
2. Wearing garden gloves and pull the chicken wire over the outside of the basket's wire frame.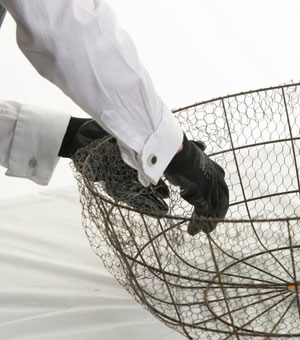 3. Cut away any excess wire with a wire cutter. Fold the chicken wire over the edge of the hanging basket and use a bent nose pliers to pull it tightly over the rim.
4. Work away any strands by folding them around the basket rim with bent nose pliers.
5. To make the stand place a plastic plate upside down on a flat surface. Stick a yoghurt container centrally to the plate using PVA glue. It is best to paint glue onto both surfaces and then stick them together.
4. When the glue has set firmly, your mould is ready to papier-máché. Use this technique to do a second plate and the doorknobs too.
5. With the mesh covered wire basket rim down, form a handle by securing the doorknob to the centre of the wire basket's dome using a screw, washer and nut to fasten it.
6. Varnish the papier-máché plate and stand with food safe varnish and allow too dry.