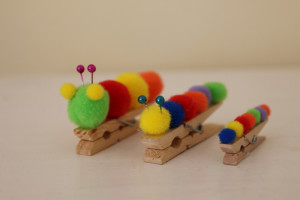 Recycled items
Wooden pegs
Pom-poms or buttons all sizes
Pins for eyes
Also needed
Method
Decide how you want to decorate your wooden peg by placing the pom-poms on the peg.
When you are happy with your layout, start to glue the pom-poms onto the peg with the craft glue. Allow to dry before you decorate the eyes.
Use your woolly worms to decorate a card or paperwork, or use as a magnet on the fridge.
If you use it as a fridge magnet, paste a magnetic disk to the wooden peg.