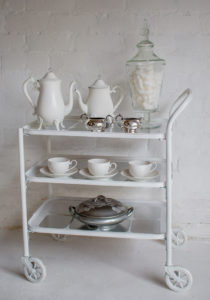 Recycled items
Old tea trolley

Paper lids from foil food containers
Also needed
White enamel paint

Newspaper/spot sheets

Paintbrushes and roller

PVA bond glue

Water-based varnish
Method
The trolley was in a good condition and only needed a sanding to remove the varnish. When sanding varnish from metal, use a fine grade of sandpaper to prevent the metal from being scratched. Wipe it with a damp cloth to clean off any sanding dust.

Place the trolley on a spot sheet, paint the legs and the top with white paint. I used a non-gloss enamel paint and a small foam roller for a smooth finish. Apply two to three coats. Between each coat, leave the paint to dry, gently sand it with a fine sandpaper and wipe away any dust with a damp cloth before applying the next layer.
The paper lids were already cut in rectangular shapes to fit the containers. Clean them with a damp cloth and allow to dry.  Use your own design, and glue the rectangular shapes onto the trays. When completely dry cover the trays with a water based varnish. Follow the manufacturer's instructions.