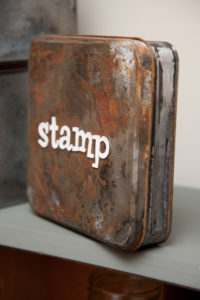 Ageing tins has been a wonderful experience, one I believe any crafter would enjoy. Each tin responds to the process differently and you can never be sure what to expect of the finished product, except that it will be utterly unique. Much like a teacher, getting different responses from children – despite teaching them the same thing! Some of the treated tins merely need a good wash to make them stand out, while others might need a bit of sanding after the ageing process. Be brave and experiment! These tins are not suitable for food storage, but I use them to store ribbons and buttons, for planting strawberries or to give away as gift boxes.
Recycled items
old tins (various shapes and sizes)
Also needed
hand sander or sandpaper

leather cut-out letters
Using the ageing technique, you will need
kettlebraai or outside fireplace
charcoal
firelighters
matches
old tins
oven gloves
barbecue equipment
rust activator
Method
Make a fire with the charcoal, firelighters and matches! Place the tins directly over the flames or coals, one by one. Leave until all paint coatings have burned away. (Note: galvanised paint takes longer than others.)

Wearing oven gloves, use tongs to remove the objects from the fire. Take care not to drop them or place them on top of one another as they will easily distort while hot.

When all the objects are cold, wash them thoroughly under running water to remove any traces of ash.

Dry the objects with an old cloth; they are now ready for decorating.

Follow the manufacturer's instruction when using rust activator.

Use a hand sander or sandpaper to remove any paint that might not have burnt away. The tins are now ready to be decorated.
Leather-letter decoration
Use peel-off leather letters or stickers to decorate a retro box to your taste.