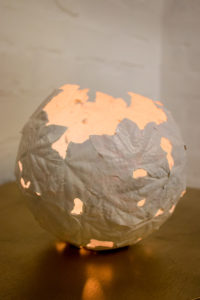 Recycled items
Inflatable plastic ball (e.g. a beach ball)

Bag full of silk leaves
Also needed
Pump to inflate ball

Bowl (for ball to rest on)

Petroleum jelly

Old bowl (to pour the Powertex into)

Powertex

Pin to pop the ball

White spray paint and dust mask
Method
Inflate the ball with a pump if necessary.

Place the ball in a bowl to give it a solid stand and cover it with petroleum jelly.

Place the leaves in a bowl and saturate them with Powertex, using your fingers to submerge it if necessary.

Gently paste and smooth the leaves to the ball, removing any air bubbles and excess glue with your hands.

Leave to dry for about 48 hours. Ensure that the leaves are completely dry before you remove the ball by popping it with a pin and gently removing any plastic ball from the leaves.

When the newly-made ball is completely dry place the leaf ball on a spot sheet, wear a dust mask, work in a well ventilated area and spray paint the ball white. Allow to dry.
Caution When working with Powertex, ensure that there is running water nearby and that your work surface is protected.