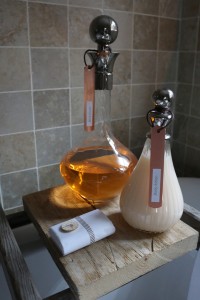 Aid the bathroom indulgence with fine bathroom essentials such as decanters filled with soap and créme.
Recycled items
Glass liquor decanters of all sizes
Luggage tags /bronze plant labels
Also needed
Dishwashing soap
Clean cloth
Bath oils, créme and foams to fill the decanters
Method
Place the decanters in soapy water to remove any stains and dirt.
Dry with the clean cloth and fill with bath oils, créme and foam.
Write or print essential detail on paper and stick it onto a bronze label to hang around the decanters.