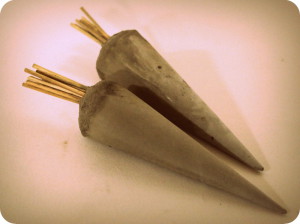 Recycled items
Paper/plastic cones (old sweet containers)

Kebab sticks
Also needed
quick set cement

tall glass vases

binder clips

metal spoon (to mix cement)

jar (to mix cement in)

small scissors (with a sharp point)
Method
The idea is to fill the cones with quick set cement. You can securely suspend the cone from an inside washing line or similar structure, or insert each cone into a container that accommodates its full length. I used a glass vase and secured the cones to the rim with binder clips.

Mix the quick set cement according to the manufacturer's instructions and pour it into the cones (I made a separate mixture for each). Wait for about ten minutes and then push the short kebab stick into the middle part of the opening. It must look like cut carrot tops. Leave to set overnight.

Remove the heavy cones from the container or line, and carefully cut the plastic or paper away from the cement.

Place the cement cones in a well, ventilated area to dry thoroughly.

Display as carrots when it is completely dry.