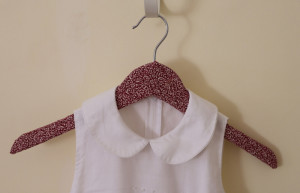 If you cannot knit or crochet, this is the easiest way to cover hangers.
Recycled items
Wooden hanger
Tore or cut pieces of fabric
Also needed
Modge podge/PVA/wallpaper glue (I used wallpaper glue – it's more economical)
Water-based varnish and a brush
Method
Pour the glue in a small bowl. Work on a plastic-covered area and wear an apron. Take two small pieces of fabric and dip them in the glue. Remove any excess glue with your fingers and cover the two ends of the wooden hanger first. Keep it in position with pins or a wooden peg. You can then do the same with all the other fabric pieces and cover the rest of the hanger. Allow to dry.
When it is completely dry, protect the hanger with a water-based varnish. Follow the manufacturer's instructions.