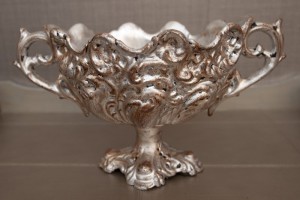 Recycled items
white Victorian-style fruit bowl
Also needed
brown acrylic paint
size (glue)
silver leaf
sponge brush
fabric gloves
piece of velvet
paintbrushes
old towel
spray varnish/clear lacquer
Method
Follow steps 1 to 6 of the basic gilding method on November blog post. I did not paint the ceramics with white or yellow paint as indicated there, but used a dark brown colour as a base coat instead.
For a rustic look, rub off some of the silver leaf with an old towel to reveal the brown undercoat before applying a varnish.
When you are satisfied with your recreation you can spray varnish it with a clear lacquer and leave to dry.