HOW TO MAKE IT:
1. Glue two hanging baskets (with a small circle in the centre of the base, these circles will form the opening of the lantern on the top and the bottom) together on top of each other with a glue gun to form a sphere.
2. Place the sphere in the middle of the lace. Fold the lace around the sphere and gather it at the top with an elastic band.
3. Place a good amount of fabric glue on the top and bottom rims(the small circle) of the sphere. Press the lace onto the rims and use binder clips to grip the lace to the rims. Leave to dry.
4. Using a fabric scissor and cut away the excess lace around the rim at either ends of the sphere.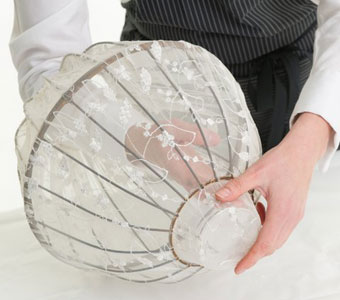 5. Decoupage the lace onto a plastic bowl. The plastic bowl must be just big enough to fit into the opening of the sphere/lantern.
6. Bend a piece of wire (about 25cm long) around a round bottle to form a perfectly round curve.
Using long nose pliers to turn each end of the rounded curve up to form hooks. Fasten them to the lanterns frame.
7. If you need the lantern to hang from a high ceiling, attach a length of ribbon or string for this purpose. Place an battery operated candle into the plastic bowl.