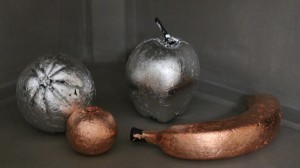 You will need:
Sheets of silver or bronze leaf
Water-based size (glue for gilding)
Cotton gloves
A pair of scissors
Good-quality artist's paintbrushes
Small piece of velvet fabric
Water-based varnish
Plastic or wooden fruits
Sponge brushes
Method:
1. Clean the plastic fruit with a little vinegar added to lukewarm water; it needs to be grease and dust free.
2. Make sure it is completely dry. Using a sponge brush, apply the size evenly and thinly with strokes across the entire surface of all the fruits.
3. Allow the size to dry completely (refer to the manufacturer's instructions on the container for time). It is important not to touch the size, as it will mark. The best way to check the state of the size is to use the hair on the back of your hand: if you feel a slight pull, the size is ready.
4. Before working with metal leaf, ensure that your work area is draft free. It is important to wear cotton gloves when handling the leaf. Pick up the leaf with the tissue backing and lay the metal leaf against the size surface, using your fingers to straighten it. Metal leaf is extremely fragile. Repeat the process until the size area is completely covered. Cut smaller pieces of leaf for smaller areas and to fill any gaps.
5. Small creases will appear. Don't worry; simply brush the creases away with a paintbrush.
6. To achieve a bright surface, dab your foil-covered object lightly with a small piece of velvet fabric.
7. Seal the surface with varnish to prevent it from tarnishing.