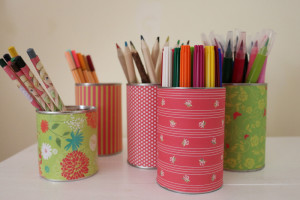 There are so many different uses for these tins: you can use them for stationery, bits and bobs around the house and small toy containers, to name but a few.
Recycled items
Empty tins and bottles (any sizes) (I used tins)
Colourful wrapping or card paper
Also needed
Craft glue
Pencil and ruler
Craft glue
Method
Measure the circumference and height of the tin. Use these measurements and cut the paper to cover the tin accordingly.
Use the craft glue to stick the paper onto the tin.