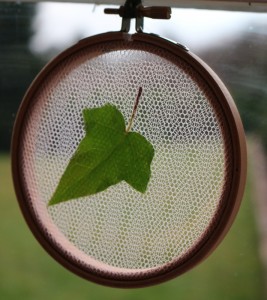 I am not a huge fan of hanging hoops, but this one did a good job with these fresh leaves. The focus was more on the green leaves than on the hanging hoop itself.  What do you think?
Recycled items
Embroidery hoop
Small piece of netting
Fresh leaves
Also needed
Method
Use the outside circle of the embroidery hoop as template and trace two circles on the netting.
Cut around the traced circles with the pair of scissors.
Place one of the netting circles over the first embroidery hoop, and position the fresh leaf in the middle of the netting circle (you can pop a small dot of glue on the back of the leaf to keep it in position between the netting circles). When you are happy with your leaf position, place the second netting circle on top of the first one.
Fasten the outside circle of the hoop over the inside circle, with the netting attached between the two wooden circles and the leaf in place.