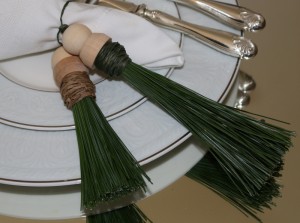 The tassel on this little napkin ring is multi-functional. You can use it to decorate a napkin ring or hang it on doors for a green botanic decoration.
Recycled items
A bunch of long, straight pine needles
Old-fashioned peg top
Flexible garden twine
Wooden beads
You will also need
Scissors
Garden secateurs
Method
Bunch together a handful of the pine needles. Cut them straight at the top and the bottom.
Use the flexible garden twine to fasten them together at one end.
Fit an old-fashioned peg top over the fastened end.
Make a loop with the garden twine, slip it through the wooden bead and pull through the fastening to give it the finished tassel look.