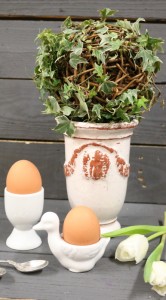 I am a lover of topiary trees in any form and shape. I prune them outside the house and always think of new ideas for how I can bring them indoors. I hope you all like this simple idea for a topiary tree.
Recycled items
Old Christmas wicker ball
Ivy plant from outside (if you do not have one outside, buy one in a small pot from your local garden centre)
Also needed
Green florist's wire
Wire cutter
Method
Plant the ivy in a small plastic pot. (Make sure you have one with long stems.)
Open the stems to the side of the pot and place the wicker ball in the middle of the stems.
Start to coil the stems around the wicker ball, fastening them to the wicker ball with the florist's wire as you go.
Place the plastic pot in a decorative holder for display.