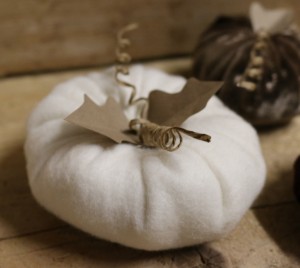 You will need:
Felt fabric (15cm x 15cm)
Stuffing
Long embroidery needle
Embroidery thread
Garden twine
Brown paper
Fabric scissors
Method:
1. Cut a pumpkin circle from the felt.
2. Use a full strand of cross stitch thread to create a running stitch around the outside of the felt circle.
3. Pull gently to form a cup shape from your felt.
4. Fill with stuffing and knot.
5. Sew through the middle of the pumpkin to give it shape.
6. Cut out pumpkin leaf shapes from the brown paper and glue them with the curly garden twine onto the top of the pumpkin.